Subtropicals and Tropicals in California Agroecosystems
August 9, 2020 @ 8:00 pm

-

10:00 pm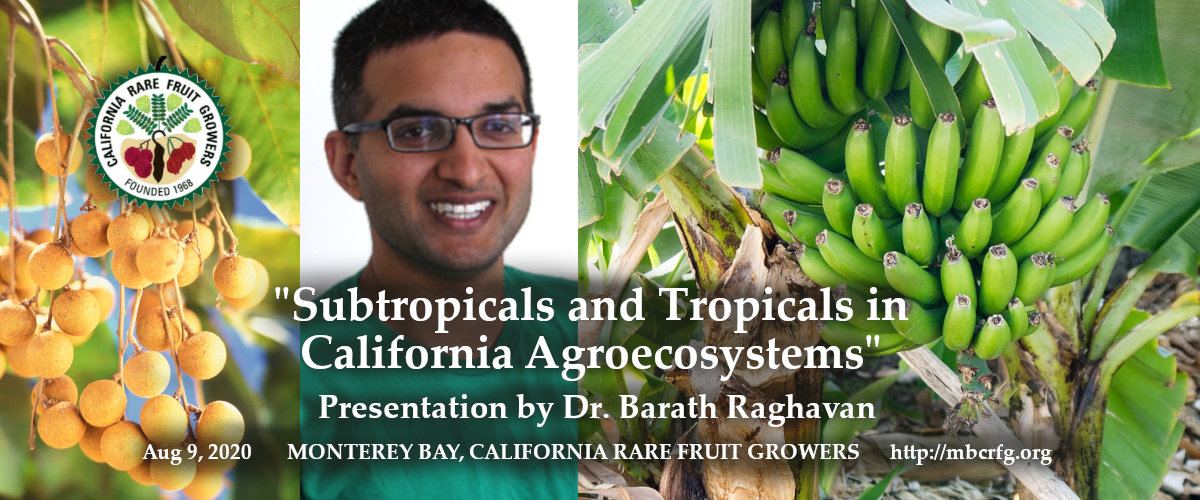 "Subtropicals and Tropicals in California Agroecosystems"
Presentation by Barath Raghavan, followed by Q&A
A meeting of the Monterey Bay, California Rare Fruit Growers.
Remote video-seminar via Zoom. Attendance limited. Priority admission to members of MBCRFG (join), and additional seats will be made available to non-members who pre-register here.
---
"In this talk I'll discuss 100+ edible subtropical and tropical species and some (ongoing) experiences growing them outdoors in various microclimates in Northern and Southern California, both in the ground and in containers. I'll share some opinions on which seem promising and which seem not to be worth the effort, and I'll discuss methods of propagation and care. I'll also talk about how to select which species are appropriate for your specific microclimate, and some research I'm doing into building computational tools to help automate this selection process."
Barath Raghavan, Phd, has been a long time participant in northern California CRFG circles, where he was responsible for diverse propagation activity and the Ohlone Greenway fruit planting in Albany. More recently he has relocated to the Los Angeles area, where he is on the computer science faculty at the University of Southern California.