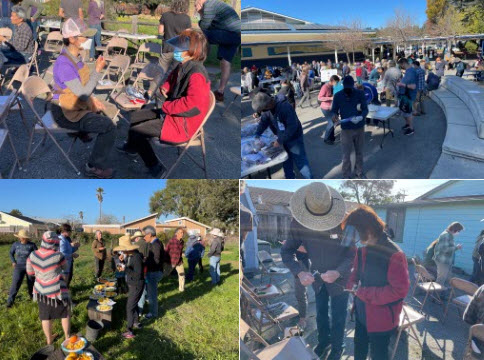 The Monterey Bay Chapter of the CRFG met Dec. 17, 2022 for the annual holiday party and election. Members contributed to the annual potluck with a wide variety of dishes.
What is a year like in the Monterey Bay CRFG? Our members participated in these activities:
•Scion Exchange
•Grafting Class
•Pruning at the Grange
•Citrus Tasting
•Mature Tree Grafting Demo
•Tour of Ken's farm
•Weather Station Presentation by Jason
•Soil Preparation Presentation by Sharon
•Apple Tasting
•Grafting Knife Sharpening with Andy
•Feijoa Tasting
Photos from these activities, as well as photos of members' successful garden were showcased in presentations. Missed this fun event? You can relive it by watching either of these two presentations.
Chapter Activities: http://mbcrfg.org/wp-content/uploads/2022/12/MBCRFG_Activities_2022.pdf
Members' Successes: http://mbcrfg.org/wp-content/uploads/2022/12/Fruit-pictures-2022_sm.pdf