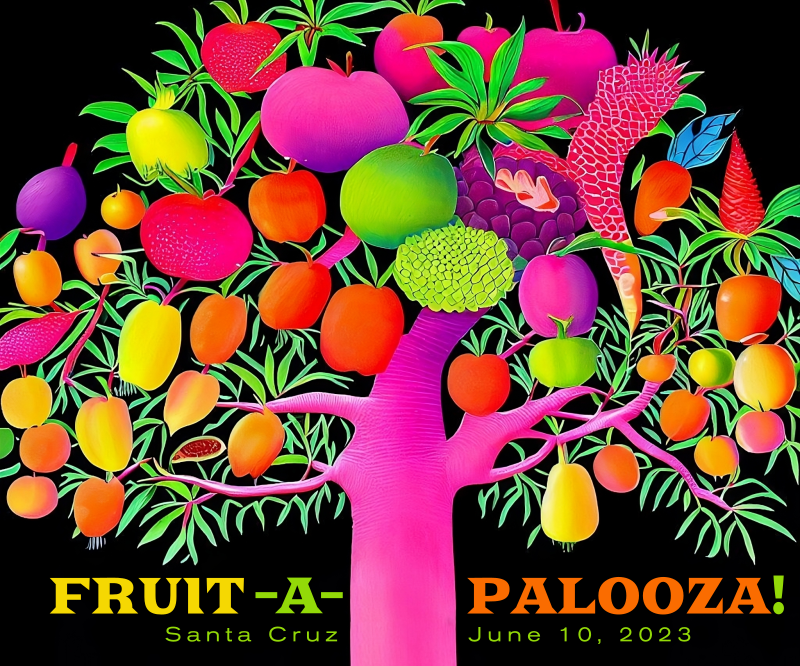 Fruit-A-Palooza 2023: Growing Tropical and Subtropical Fruit on the California Central Coast
(Proceeds Benefiting Gardening Education at Pajaro Valley Schools)
SOLD OUT! We are thrilled to announce that tickets are SOLD OUT for Fruit-A-Palooza 2023! The waiting list is CLOSED. If you are no longer able to attend the event, please let us know so we can allow those on the waiting list to register. If you have any questions, please contact us at montereybaycrfg@gmail.com. 
Ever wished you could enjoy home-grown tropical and subtropical fruit? Wondering which ones are viable to grow in our temperate climate? Come to the first-ever Fruit-A-Palooza to learn more!
This day-long event, held by the Monterey Bay Chapter of the California Rare Fruit Growers, is dedicated to exploring the possibilities and how-tos of growing fruit we may have never even yet imagined. Your attendance will help support improvements to the gardening education programs at Pajaro Valley Schools.
Date and Location
June 10, 2023, 9 a.m. to 5 p.m. at the Santa Cruz Grange Hall, 1900 17th Avenue, Santa Cruz CA
Agenda
9:00-9:45
Registration/Check-in.
Vendor Introductions.
Vendor Fair open all day, no ticket required
9:45-10:00
Welcome
Remarks by Carol Golsch, Monterey Bay CRFG Chair
Remarks by Patrick Littleton, PVUSD Afterschool Education
10:00-10:45
Marta Matvienko, "Growing Uncommon Subtropical and Tropical Fruits"
10:45-11
Break
11:00-12:00
Freddy Menge, "Taking the Tricks Out of Greenwood Grafting"
Exotic Fruit Tasting
12:00-12:45
Lunch (Vendor Fair Open)
12:45-1:45
Steven Murray, "A World of Fruit for the Central Coast of California"
1:45-2:45
Jason Sutor, "DIY Chocolate"
2:45-3:00
Break
3:00-3:45
Roger Kaspar, "Growing the Lost (Found?) Fruits of the Incas on the Central Coast"
3:45-4:45
Ice Cream Tasting and Raffle
Vendor Fair Closes
Vendor Fair
Local nurseries specializing in tropical and subtropical fruits will be on hand to provide a vast array of plants sure to pique your interest. The Vendor Fair, which will be open all day, will be open to the public, no tickets required!
Reed Dahlmeier
Nate Blackmore, Wildlands Farm and Nursery. Wildlands Farm and Nursery imports rare fruit trees from around the world, with a focus on species that are cold hardy and capable of surviving in Zone 9B climates. I grow a lot of different Myrtaceae (Jaboticaba, Rare Guava species, Eugenias and more) Sapotaceae (Lucuma, Green Sapote) as well as hundreds of other species. I'll have plants that are ready to go into the ground as well as smaller plants that will need to be sized up in pots before planting. If you are interested in learning more about some of the plants I offer, please check out my website to see pictures and information about specific species! https://www.wildlandsplants.com/plant-profiles
Katie Wong is a seller of Chinese herb plants. She will be bringing licorice, goji, ox knee, motherwort, mugort and other herbs.
Justin Outten expects to bring Moringa, tropical papaya, Psidium guajava 'tropical pink', Patchouli, Yakon, Muntingia, Katuk, Cherimoya, Vetiver and dragon fruit
Marie Jacques Bonney, Honey Blossom Retreat Garden. Honey Blossom Retreat Garden is a diversified farming enterprise with organic certified nursery and greenhouses focusing on edible plant starts and nursery stock offered in the latest generation of bio-degradable containers. We are proud to offer organic plastic free gardening to our conscientious local community base.
Israel Osuna, The Experimental Orchardist
Fruit Tasting

Fruit from Steven Murrray's Bakersfield Farm
Locally grown sub-tropical fruits
Organic/Vegan Lunch

Local chef, Beth Love, will be crafting a delicious vegan luncheon for all attendees. If you haven't tried barbecued jackfruit sliders, this is your opportunity! The food will be all organic.
Raffle

Our vendors will be donating prizes for a raffle! Every attendee will receive a raffle ticket. Raffle will be held during the ice cream tasting (must be present to win).
Tropical Ice Cream Tasting
Imagine sampling a flight of exotic ice creams made from white sapote, feijoa, cactus pear …. All Organic and specially crafted for the occasion by acclaimed local chef Katherine Stern of The Midway in Santa Cruz (coming soon to Soquel and Seabright!). Taste ice cream delights like you've never before experienced.
Tickets
SOLD OUT! We are thrilled to announce that tickets are SOLD OUT for Fruit-A-Palooza 2023! The waiting list is CLOSED. If you are no longer able to attend the event, please let us know so we can allow those on the waiting list to register. If you have any questions, please contact us at montereybaycrfg@gmail.com. 
Proceeds from Fruit-A-Palooza will benefit gardening education programs in the Pajaro Valley Schools. Tickets include all speaker presentations, demonstrations, lunch, tastings and raffle ticket. Tickets are sold out. All proceeds from the event will go toward the Pajaro Schools gardening education programs.
For volunteer opportunities and reduced admission cost, contact montereybaycrfg@gmail.com
Parking
There is limited parking at the Grange. Please carpool, bike or use public transportation if possible. We have also arranged parking at several locations nearby that are just a 5 minute walk to the Grange. They include:
Harbor Light Church
2008 17th Ave, Santa Cruz
Santa Cruz, CA 95062
Live Oak Senior Center/Senior Network Services
1777 Capitola Road
Santa Cruz, CA 95062
Live Oak Elementary School
1916 Capitola Rd
Santa Cruz, CA 95062
Speakers' Information

Steven Murray
Title: "A World of Fruit for the Central Coast of California"

Steven Murray of Murray Family Farms is a world-traveler who has amassed the largest private collection of fruiting plant species in the state of California, with 750 species of fruits on his farm in Kern County. Steven's presentation will discuss both his fruit growing in California and his travels around the world collecting fruit (he has recently been on a fruit hunting expedition in Bali, Indonesia with stops in Fiji, Vanuatu, New Caledonia and Australia on that trip). He has traveled to 97 countries looking at different species of fruits.
Steven has been collecting fruit since he was in middle school! He first joined CRFG in 1998, and was a CRFG scholarship recipient. A polyglot who speaks 7 languages, he spent two years in China as an exchange student, where he finished his upper division classes. His family has a cherry farm, and Steven heads their farmers market division where he sells fruit in 30 farmers markets a week, bringing exotic fruit to sell to the public. He has been a keynote speaker for NAFEX (North American Fruit Explorers), and Hawaiian tropical fruit growers.

Marta Matvienko
Title: "Growing Uncommon Subtropical and Tropical Fruits on the Central Coast"

Marta will discuss the growing and fruiting of various subtropical fruits in the conditions of the Central Coast. While our climate may be the best for a variety of Pome and stone fruits, grapes, citrus, and mulberries, it also allows for the growing of many uncommon subtropicals and even some tropical fruits. Planting fruits for various fruiting seasons has allowed Marta to create a year-round fruit harvest. Marta will cover her experience with growing Kei Apple, Surinam Cherry, various guavas, feijoa, Oak Leaf papaya, loquat, white sapote, avocado, dragon fruit, and some other rare fruits.

Marta is a professional plant geneticist. She has worked for companies involved with genomics technologies, next-generation sequencing, and bioinformatics. She started gardening back in her teens in Central Asia, in the republic of Uzbekistan, which was a part of the Soviet Union at the time. Later, she tended to her plants and gardens in St. Petersburg (Russia), Wageningen (The Netherlands), and New Brunswick (New Jersey). After settling down in Davis, she started her current home plantings in 2001.
Since joining the CRFG in 2011, her fruit tree collection has grown from a few dozen to hundreds of trees. She enjoys growing stone fruits, pomegranates, persimmons, citrus, white sapotes, and experiments with many other subtropical fruits. She documents some of her findings at https://fruitsandgardening.blogspot.com/. Marta is a member of the CRFG board of directors, where she leads the Fruit Variety Registration program.
Jason Sutor
Title: "DIY Chocolate"
Jason will be presenting on the at-home bean-to-bar chocolate making process with a short interlude on coffee roasting. Learn how to make your own chocolate line at home including delicious single-origin chocolates and milk chocolate. Jason will discuss the types of chocolate, equipment needed, costs, process and pitfalls to making chocolate. He'll cover the feasibility of growing cacao and potential alternatives. Discover how to multi-purpose your chocolate making equipment for other benefits such as home-roasted coffee and nut butters. We will have a tasting of a few chocolate products and coffee.
Jason gardens on a small property in the cool fog of Pacific Grove. He's been tinkering for the last few years trying to determine what fruit varieties can thrive without heat. He has planted and grafted over 500 varieties in the quest for fruit and has a large collection of guava-relatives and bananas. He aims to have the largest collection of rare fruit in Monterey County, CA, and to keep planting more trees. Jason is a board member and the treasurer for the Monterey Bay CRFG.
Roger Kaspar
Title: "Growing the Lost (Found?) Fruits of the Incas on the Central Coast"

Roger lives with his wife, children and two llamas on four acres in the Santa Cruz foothills where he experiments with whatever will grow and produce excellent-tasting fruits or vegetables. Recently, he has taken a keen interest in sub-tropicals, especially those that were enjoyed by the Incans and are still grown in the Andes. This presentation will focus on which of these Andean fruits grow well in the Santa Cruz area including cherimoya, aguaymanto (gooseberry), purple passionfruit, capulin cherry, lucuma, pacay (ice-cream bean), pepino dulce and others. Roger will also discuss briefly quinoa, the mother of all grains.
The inspiration for this talk was the book, Lost Crops of the Incas: Little-Known Plants of the Andes with Promise for Worldwide Cultivation (1989), which has excellent background material and can be downloaded for free for educational purposes.
Roger earned his PhD in Biochemistry at the University of Washington and has spent the bulk of his career studying gene regulation and doing drug development, particularly for rare inherited skin disorders. Roger is a board member and the membership coordinator for the Monterey Bay CRFG.
Freddy Menge
Title: "Taking the Tricks Out of Greenwood Grafting"

A lot of people feel comfortable grafting dormant wood, only to find pitfalls, faux pauxs and failure when applying the same techniques to non-dormant, or greenwood grafting. This talk will zero-in on the various little tricks throughout the process of joining scion to stock that turn the odds in our favor, and allow for effortless and successful green grafting.
Freddy will show how to adapt several grafting styles to greenwood, including Cleft-graft, Rind-graft, Whip and Tongue, and Z-graft. Freddy will talk about timing and temperature, why and when to use the different techniques, how to select scion-wood and prepare rootstock. We'll cover sealing, binding, shading and tending the fresh grafts, and be ready to field any and all questions about grafting non-dormant fruit trees. Everyone attending the talk will walk out equipped to succeed in any green grafting situation.
Freddy is a well known local orchardist, and can be found in the fall at the West Side (Santa Cruz) farmers market selling fruit varieties that no one has ever heard of. He is a partner with his wife Ellen Baker in Epicenter Nursery and Fruit, which is their cover, providing justification to obsess on great fruit full-time, without social stigma.
Freddy keeps his knife skills current by grafting and re-grafting his orchard of 700 trees.
He is a long-term member and supporter of CRFG, and an emeritus board member of the Monterey Bay CRFG.