2022 Scion Exchange
January 30, 2022 @ 12:00 pm

-

3:00 pm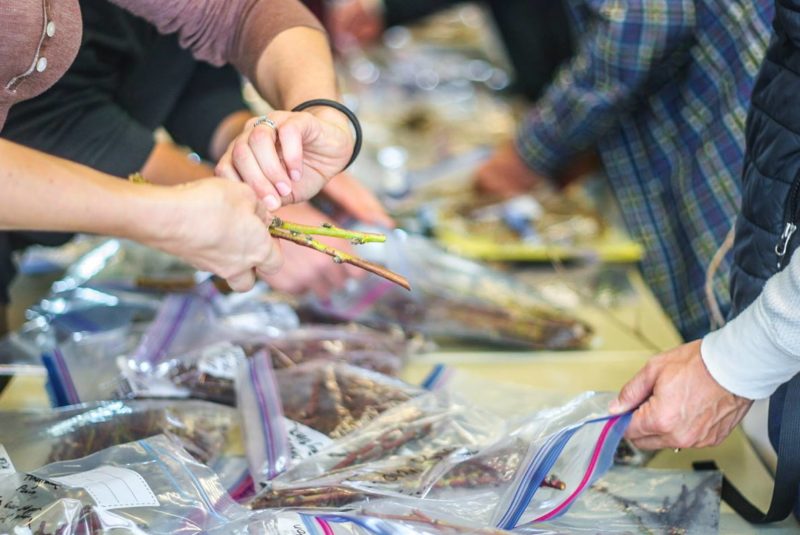 Join us at our Scion Exchange January 30, 2022 at Soquel High School!
This outdoor Scion Exchange offers CRFG members and the public an opportunity to select scions that can be grafted to rootstock or to existing fruit trees.
Current members of CRFG may enter the event at 11 AM; Non-members are welcome to participate from 12-3 PM.
Entry Fee & Items Available for Purchase
Current CRFG Members: Free
Admission for the Public: $5.00
Scions: Free with paid admission
Limit of 2 scions per variety, per person
Scion collection kits (if you forget to bring the items listed below in "Bring These Items to the Event"): $3.00 each
Apple, Plum & Quince rootstock will be available for purchase: $6.00 each or 5 for $25.00
Custom grafting will be available: $6.00 for the rootstock & $5.00 for the graft
Grafting demonstrations will be held to provide basic instruction in how to graft
Bring These Items to the Event
1. Ziploc bags to store your scions and to keep them fresh
2. Large plastic bags if you plan on purchasing rootstocks
3. Masking/Painters tape to label the scions you select
4. Sharpie, fine point, to write on the masking tape to label your scions
Safety During Covid
We expect participants to be aware of Omicron variant infection possibilities.
-If you are ill, do not attend the event.
-If you have concerns about your safety, do not attend the event.
Requirements for All Attendees
Masks must be worn to enter the Scion Exchange and at ALL times during the event. Note: Per the CDC on 1/14/22, surgical masks or higher-level masks (e.g., N95, KN95, KF94) with good fit are recommended.
Ensure that your mask covers your mouth and nose at ALL times.
Do NOT wear gators or vented masks.
Eating or drinking in the event venue is not allowed.
Practice social distancing; stay 6 feet away from others.
Thank You in Advance for…
…conducting yourself with civility and understanding to allow people to enjoy the event and have the best chance of quickly and efficiently getting the scions that they would like to have for their gardens.