Festival of Fruit 2018
July 26, 2018

-

July 30, 2018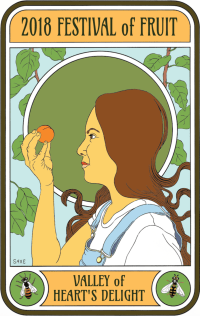 This year our sister Santa Clara Valley chapter is holding the CRFG's annual Festival of Fruit conference. Visit the the Festival of Fruit website for registration and all the details.
---
The Santa Clara Valley Chapter of California Rare Fruit Growers invites you to join us for the Festival of Fruit and the 50th Anniversary of CRFG!
July 26–30, 2018
Campbell Community Center
1 W. Campbell Ave. in Campbell, CA
Saturday the 28th will be a full day of speakers, presentations, vendors, raffles, and lunch, along with a dinner buffet with guest speaker. Register for the Festival and optional reception and dinner at the Registration page.
Please look at the Speakers page for the full list of Saturday speakers and their topics. You can sign up for their talks from that page.
There will be tours of local homes, farms, and wineries on Thursday, Friday, Sunday, and Monday. Check the Tours page for the full list of tours, and descriptions. You can sign up for the tours from that page.