This article is a companion piece to the Eating of Persimmons, published on the Birdsong Orchards farm blog here.
Four years ago, in the winter of 2014/2015, we planted around forty persimmon trees in our orchard. Most have thrived, a few have died, a few more have been planted, and I have learned a few things along the way.  I cannot claim to be a master of persimmon horticulture, for my trees are still young and have many years of growing to do, but I'd like to share what I know.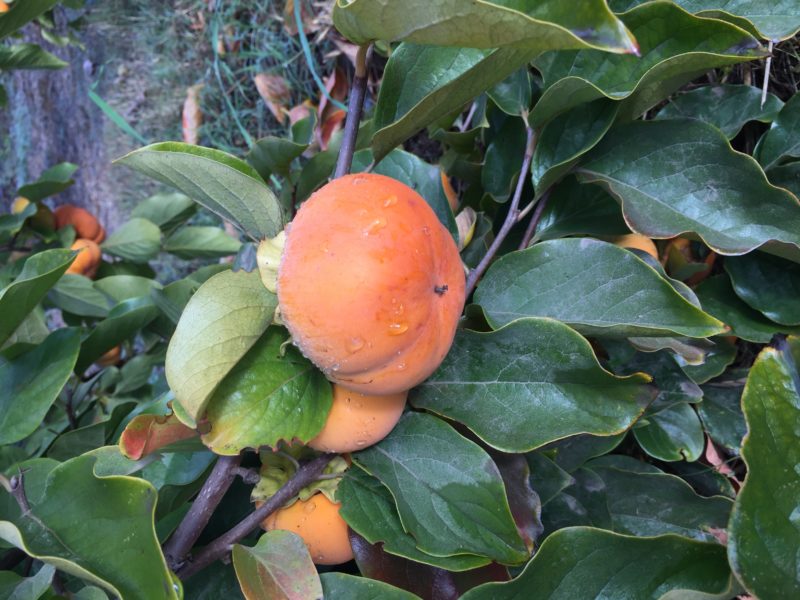 Let me start with this: persimmons have proven to be one of the best and most satisfying fruit tree species we grow in our orchard on the California Central Coast. They are disease free so far, and have had very low gopher pressure, especially compared to the poor figs just a few rows up. The persimmon trees have grown fast, and we got our first decent harvest from these relatively young trees this fall. They are graceful trees, and provide the best autumn show of color of any fruit tree I have seen in California.
Persimmon Varieties & Sourcing
There are dozens if not hundreds of other varieties of persimmons grown commercially in Japan, China and Korea, but I have found them next to impossible to find here in the US. If anyone has any leads, please let me know! In the meantime, here is a tantalizing random internet photo I found, mostly showing varieties I have never heard of.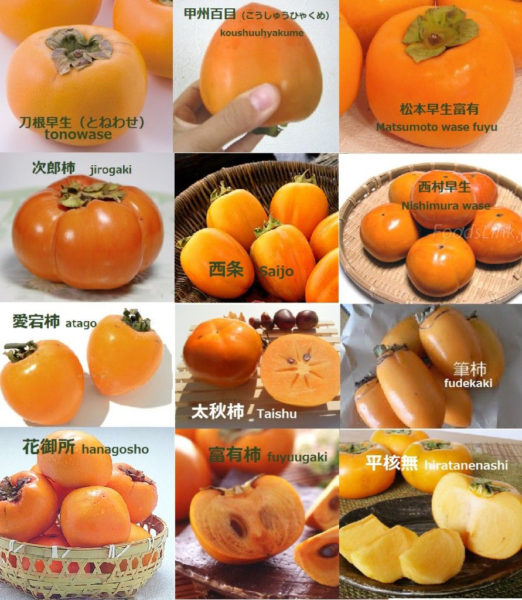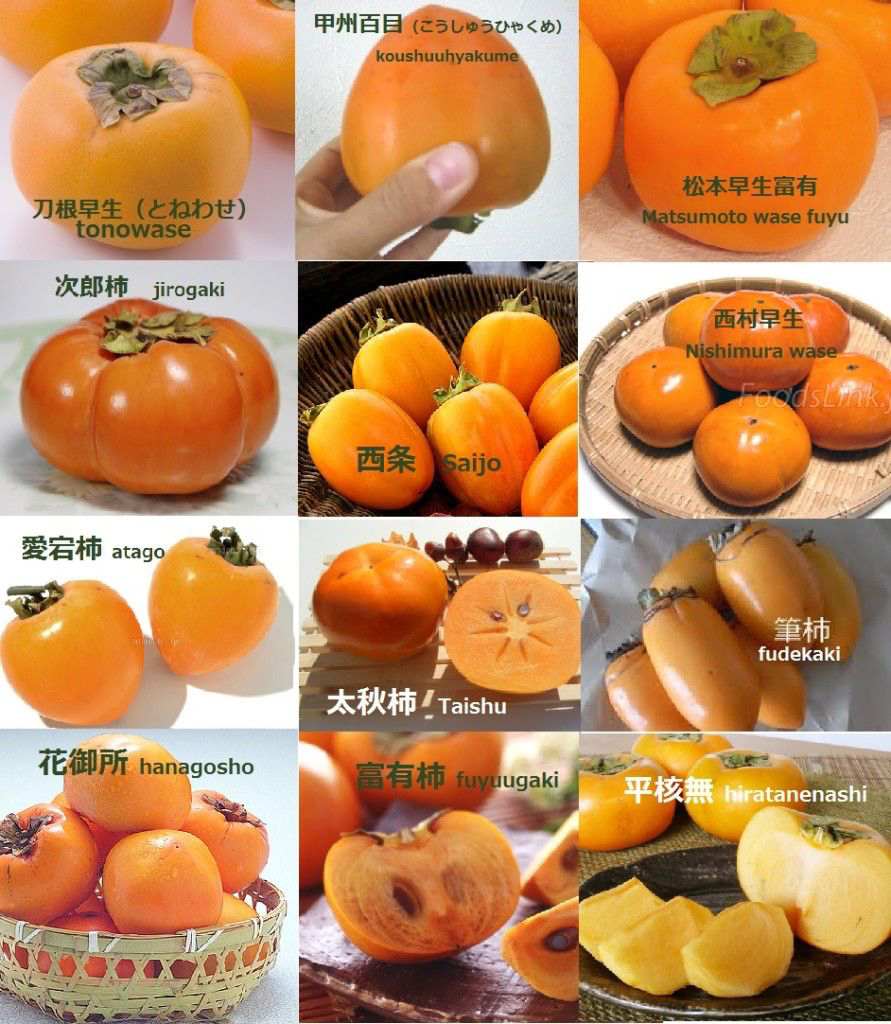 I have also seen rare glimpses online of mysterious purple and blue skinned persimmons from Korea, but I have never found a source for them.  There is one variety from the graphic above I AM growing, and that is Saijo. I am told Saijo means "the very best one" in Japanese, and I agree with that statement 100%. I'll be providing some Saijo scion wood at the Scion Exchange 2019, so keep an eye out for it if you are interested.
I am growing 8 varieties in total so far: Fuyu and Hachiya of course, but also Saijo, Tamopan, Izu, Chocolate, Honan Red and Imoto.  All of my trees were purchased bareroot from Trees of Antiquity, who I recommend so highly, and are grafted onto Lotus rootstock. I have only lost two trees, due to trunk damage from weed whipping around them when they were very young I think.
Other online sources for persimmon trees I like are:
Locally, I have seen persimmon trees for sale at Far West Nursery and San Lorenzo Garden Center in Santa Cruz, as well as Mountain Feed in Ben Lomond.
Planting & Fertilizing
Look for bare root trees in the winter, January – February time frame ideally, and plant your trees well before bud break. I generally head back bare root trees to about 3 feet and remove any spindly side shoots at the same time. I plant new trees with a handful of Mykos mycrorhizzal fungal inoculant applied around the roots, then mulched with a good layer of wood chips. I have two lines of Netafim 1/4" drip irrigation on either side of the persimmon row, and I have found the trees need an average amount of irrigation, not as much as my figs but more than my apples. I think I will probably add a third row of irrigation line this spring.
I have given the trees an annual meal of organic granular fertilizer at a rate of one cup per inch of trunk diameter every spring. I generally give all my orchard trees a late spring foliar feed with kelp, fish emulsion and neem oil as well.  The only nutrient peculiarity I have learned of persimmons so far is this: the non-astringent Fuyu variety requires additional iron, or I have a problem with pale and anemic new growth. I have found applying a liquid iron feed to the roots in March helps with this problem, whereas a foliar spray tends to burn the new leaves.