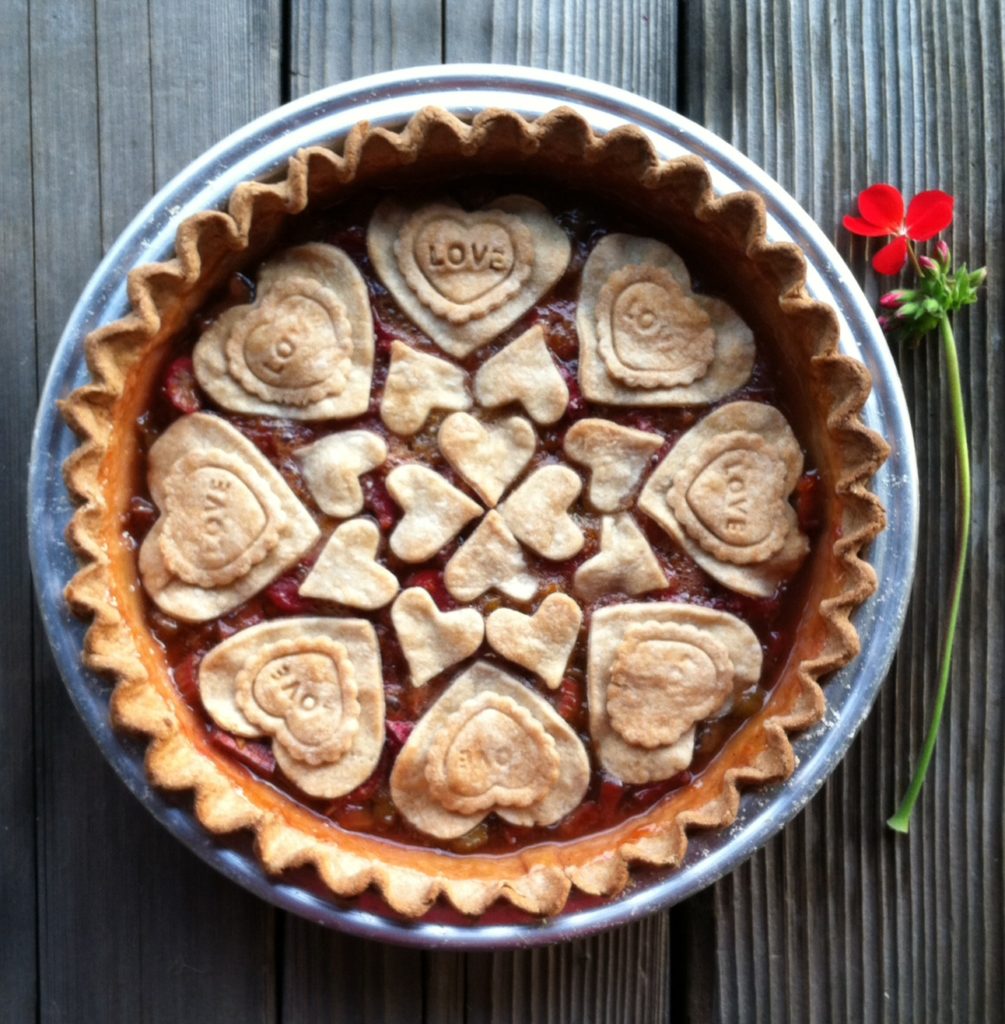 My family loves this pie, and with limited fruit options in February, rhubarb-calamondin is invariably the featured treat of each Valentine's Day.
My kids often ask me what my favorite color is, and I always respond that I like all the colors but certain combinations of colors leap out for me. I would have an equally difficult time choosing a favorite fruit, and again, it's those certain combinations that move to the top of my list. Rhubarb and calamondin (also called calamansi) are definitely one of those stand-out combinations. If you can't get your hands on calamondins, orange zest will still yield a great pie, but try a little harder to find calamondins – it's worth it.
Happy Valentine's Day!
Rhubarb-Calamondin Pie
For a 10" pie use:
6 cups thickly sliced (at least 1/4") rhubarb stems
8 minced calamondins, seeds removed, about 1/4 cup (or zest of one large orange)
1 3/4 cups sugar
3 Tbsp granulated tapioca
1/4 tsp nutmeg
For a 9″ pie, use:
4 cups thickly sliced (at least 1/4") rhubarb stems
5 minced calamondins, seeds removed, about 2 1/2 Tbsp (or zest of one orange)
1 1/8 cup sugar
2 Tbsp granulated tapioca
scant 1/4 tsp nutmeg
Preheat oven to 450° F. Mix all together and let sit while preparing one double pie crust.
Spoon filling into unbaked crust and cover with the top crust.
Bake 10 min, then reduce heat to 375° F and bake 30 to 40 minutes longer, until filling is bubbling and crust is lightly golden.
Strawberry-Rhubarb Variation:
Replace half the rhubarb from above recipe with an equal amount of sliced strawberries and omit half the sugar.
Pie Crust
Any crust will work, here is my favorite:
Yogurt Pie Crust – makes 10-inch double crust
2/3 cup (or 11 Tbsp) unsalted butter, softened to room temp
1 cup all-purpose white flour
1 cup whole wheat pastry flour
approximately 1/3 cup yogurt (I like Nancy's for it's tartness) If there's any yogurt liquid, I use that plus enough yogurt to get about 1/3 cup – this amount will need to be adjusted for your own personal home climate, as humidity affects how much moisture flour will absorb and pie crust is finicky that way.
Cut butter into flour to get small crumbs and let rest 15 – 20 minutes.
With a minimal amount of mixing, incorporate the yogurt until the dough is just barely holding together – you don't want it too wet. You can add just a few drops of water to help it stick if it needs it, or a dusting of extra flour if it's too sticky.
Pat dough into two equal flattened balls.
Using flour, roll out balls between waxed paper to get a very thin crust. Remove one piece of waxed paper, transfer crust to pie pan (crust side down), then remove the other piece of waxed paper by gently peeling.
Join the Monterey Bay CRFG to convene with fellow local fruit aficionados, and contact us if you'd like to share with the group your own recipe featuring locally grown fruit.