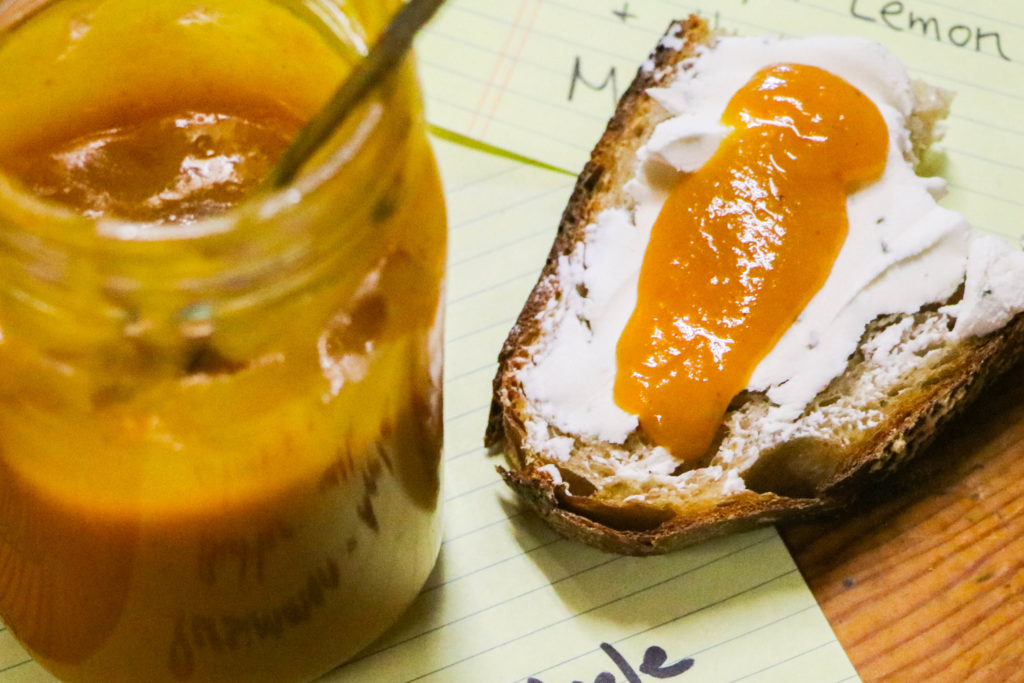 Editor: One of the great pleasures of coming together with our California Rare Fruit Growers community is the food. We grow fruit for multiple reasons: for the horticultural challenges and explorations, to nourish our families and communities, but also for delicious flavors. A highlight of our Monterey Bay CRFG meetings is the creative recipes the people bring to share. Here Stephanie graciously shares the recipe for her wonderful Persimmon-Citrus-Apple Butter (more complex in flavor than your average apple butter), which I found paired beautifully with Peter's fresh made goat cheese and my own rustic sourdough, at our last meeting's delicious potluck spread. –Andy Moskowitz
Persimmon-Citrus-Apple Butter (or Sauce) – Low or No Sugar
by Stephanie Hudson
Notes:
I've doubled and quadrupled the recipe for canning without any problems.
I've used both Rhode Island Greenings and Lady Williams apples. The former resulted in a slightly better flavor, but the latter had a lovely faint pink tinge to the color from the red peels.
I tried adding a grated carrot to the apples to get a really cheerful orange color. While the color was great, my whole family voted it not quite as good as the version without the carrot (maybe a little too reminiscent of baby food?). Next year I'll try including a red-fleshed apple.
Both Cara Cara and regular navel oranges were delicious. Next time my calamondin has a bumper crop I'm going to try substituting that for some or all of the citrus.
4 medium apples, chopped (don't peel if you have a blender or food processor, peel if you don't)
1 orange, zested and juiced
1/2 a lemon, zested
1 Tbsp orange juice concentrate (optional, it punches up the orange flavor)
1/2 tsp cinnamon
1/8 tsp nutmeg or cardamom
Bring to a boil and simmer, covered, until apples are falling apart, about 20-30 minutes.
1 cup Hachiya persimmon pulp (or add an extra apple to above step if it's not persimmon season)
1/2 a lemon, juiced
Add to applesauce and blend until smooth (an immersion blender makes this really easy).
For sauce, stop here. Makes 3 cups.
For butter, keep cooking:
1/4 cup sugar per cup of puree, or just use 3/4 cup total to be close enough (sugar is optional – without, the butter is yummy, but with, the flavors just sing)
Stir in. Return to heat and simmer uncovered until thick, another 20 to 40 minutes. You'll need to stir constantly to keep the splattering down. Makes 3 cups.
Join the Monterey Bay CRFG to be a part of the fun! Contact us if you have a locally-grown fruit-based recipe you'd like to publish for the community. Some more scenes from this meeting: